My names is Bice Perrini, I am an artist from Bari(Apulia)in Italy, who has always been fond of colours. Transferring my art to food I have coined the term 'Coloribo' (which is the short form of 'color and food'), an attempt to invite people to paint with food and to create a Mediterranean  Color-diet.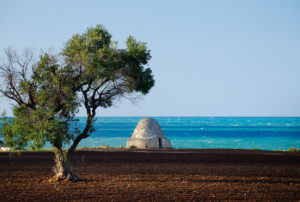 Polignano 2009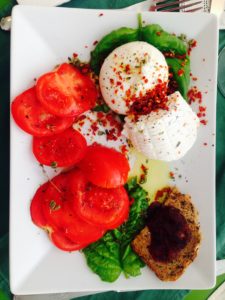 Indeed, preparing creative and colourful recipes, I have made the Coloribo sauces, colours  made of seasonal fresh fruits and vegetables that transfer at the same time my creative flair to the table.
Indeed, it is by eating with eyes that we can feel the vibrations of the colours we find in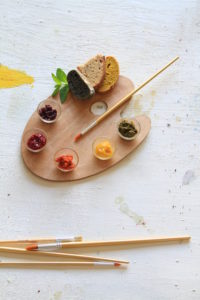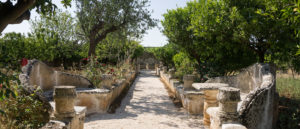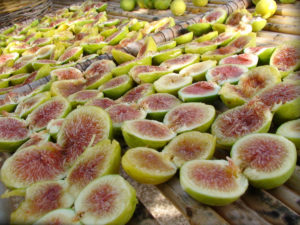 Nature. This is what I've tried to reinvent.
Drawing on the traditional recipe of how to make the tomato sauce – which used to be the yearly gathering of Puglia families who used to fill the streets with the smell of boiled tomatoes – mixing together Mediterranean herbs (such as mint, sage and fennel) with local fresh fruits and vegetables, adding Puglia extra-virgin olive oil and almonds (which are natural thickeners), I created a range of colours to eat, the so-called Coloribo sauces. The claim off of my sauces is 'Eat colors as a spur, just like an artist, to use the brush and paint a piece of bread, transformed, in this case, into a canvas.
I would like to add to this that Coloribo is  multisensory. Indeed, according to my theory, the five senses help to add taste to the meals that we daily prepare: sight (by mixing together the colours of the ingredients that we choose), smell (by adding fresh local herbs to meals), touch (by eating with hands), taste (by combining natural food with drinks) and hearing (by accompanying some soothing classical music while enjoying our meal).
Finally, Coloribo includes also Art and Multisensory Events which are characterized by colours and creativity of the menus offered.
The last but not the least, my chromatic and multisensory food theory is explained in my book Coloribo,  so that I can leave a sign of an artistic – anthropological continuity about the concept of food considered as rite and 'physical and spiritual wellness'.
Many thanks for your attention.
                                                    Bice Perrini