FROM THE RECIPES OF THE PAST WE MAKE THE FOOD of TOMORROW.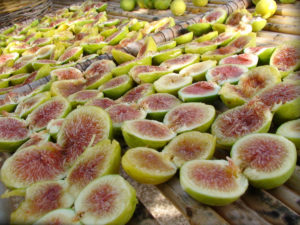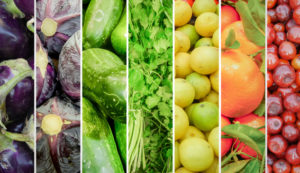 .
Mediterranean Coloribo week's menu.
Based on the Mediterranean diet Coloribo  gives some indication as to a type of weekly color-diet guide. The week is composed of seven days as the seven colors of the solar spectrum: orange, yellow, red, green, blue, indigo, violet. I'll give you some monochrome Mediterranean menù as an exercise to memorize both the basic ingredients of a day-like type and the colors (vegetables) that you can add to your diet.
Keeping this guide in mind, then you can play them as you like depending on your day and your mood. The Coloribo diet always suggests a touch of creativity in the dish composition and as far as quantity we use common sense.
The Monday menù, for example, will always be of white-blue color to allow you to start the week well;  Monday is a cleansing pasty, consisting of foods containing tryptophan and vitamins from group B, to combat melancholy and irritability, mineral water and calcium cheeses, blue fish to balance the body in blue tones, expression of hope and confidence in the future, to face the whole week.
All of these elements are contained in white cabbage and dairy, so the choice is determined mainly by the colors of the plants and some flowers and aromatic plants, which can be mixed with Coloribo's recipes.
For example, on Monday the rosemary will be used florid, with its blue florals or fresh blueberries or pomegranate beans added to some dishes as if they were pepper or salt to give a touch of blue-violet to the dishes.
On Saturday, red day, cherry tomatoes will have the same function as cranberries, they will be the basic element, predominant for all dishes.
For each color there will be a vegetable element that will act as a catalyst for all others.
Proceeding with the menus we will have:
Monday: white to get started
Tuesday: Yellow to accelerate
Wednesday: Orange to persevere
Thursday: violet to reflect and continue
Friday: Green to have more confidence and hope
Saturday: Red to prepare for action
Sunday: rainbow mix-color menu for happiness
Monday-White menu
To drink: almond / soya milk
Lettuce / raw artichokes salad with milk cherries, sesame seeds, almonds, radishes.
White bread with senator flour hats.
Whole wheat / pasta with white cabbage and bread crumbs.
White bean curd / hummus cream
Cuttlefish with green olives and oregano sauce.
Stuffed artichokes
White melon with mulberry.
Lemon sorbet with jasmine flowers / ricotta cake (or with yogurt or rice milk).
Tuesday, yellow  menù
To drink: extract of yellow pepper, lemon, yellow peach, ginger.
Potato salad , corn, pepper, yellow tomato, Apulian yellow carrot, oregano, crumbled nuts, ginger.
Turnip croutons.
Bronze plated-pasta(orecchiette)with yellow bell pepper sauce and large leaf basil.
Cous cous with yellow little vegetables and pumpkin flowers
Chickpea humus
Tasty frittata with vegetables
Peppered with capers
Dried fish with oil and lemon.
Yellow Macedonia with pineapple, plums, passion fruit, peaches, peaches and lemon.
Cake with vanilla berries and yellow lemon cream (pasty).
Wednesday, orange color
To drink: carrot, orange and lemon extract
Pumpkin salad and raw oranges, with dark dough cheese flakes, smoked or seasoned.
Homemade or whole pasta with carrot sauce + mint and grated pecorino cheese / Spaghetti with mussels
Mushroom soup / Pinfish scampi with extravirgin olive-oil and ginger
Lotus spoon or variety of citrus / peaches
Carrot cake with orange jelly.
Thursday, violet menù.
Drinking: Blueberries, purple carrots, red apple and lemon extract
Red chicory salad, purple carrots, blueberries and fresh mint.
Black chickpea humus
Roasted eggplant tower with fresh cheese and purple basil
Black / purple rice salad with blueberries and mint
Blue marinated fish with eggplant cut into small pieces / wet octopus with violet vegetables.
Plums, figs of India, purple figs.
Sea ice cream or red mulberry
Friday's menu, green color
Green mixed salad or caroselli and barattieri cutted like form of "spaghetti".
Whole pasta(orecchiette) with "rape"(typical green Apulia's vegetable)or zucchini and mint.
Rolls of raw zucchini with milk flakes and basil pesto
Swordfish with green sauce (parsley, sage, rocket, thyme and green beans).
Figs or kiwis
Green apple pie with fresh mint jelly or pistachio ice cream
Saturday menù, red color
Roast salad, tomato, red onion and oregano / bruschetta with cherry tomatoes and basil / waffle or watermelon.
Gaspacho of tomatoes and peppers
Seasoned cheese (caciocavallo type) with red figs
Fresh tomato / wild rice with red chili peppers and beans
Carrots / carpaccio with red shrimps.
Red season fruit: cherries, watermelon, apples, strawberries, raspberries, pomegranate.
Cruel chocolate tiles with currant and amaranth sauce.
Sunday type menu is rainbow mix-color.
On Sunday we make a rainbow menù.
Colorful aperitif with vegetarian sauces and bread croutons.
Mix-colored salad with seeds.
Whole pasta with tomato, basil, grilled eggplant and hard cheese.
Favors and chicory.
Fish soup with verdurine.
Veg-burger of red beetroot / Breads and vegetables with tofu.
For each menu, as you can see, I expect at least one salad with raw vegetables and / or cheese or legumes.
A plate of pasta or cereals / rice, seasoned with vegetables and aromas of the themed color.
Fish is always present raw, boiled or in the wet or on the plate
The meat is abolished but if you just can not eat it 1 time a month, the kids 4 times a week.
Fruit and light desserts.
Bread, preferably mixed or wholly meal, is contemplated only in the absence of pasta or rice.
Extra virgin olive oil is always very enough.
We use the rich lemon is rich in vitamin C and prevents innumerable illnesses.
Colors to drink and to eat at will !
Phytonutrients in fruit and vegetables give color to plants and are made of substances (lycopene, anthocyanin, carotenoids, lutein, quercetin, ellagic acid, flavonoids, resveratrol) that preserve our organism from cardiovascular disease and cancer. For this reason, our goal is to try to eat at least two kinds of foods for each color group per day. A reflection on the use of colors in food:
Each of us has a favorite color, but most of this preference is dictated by the geographic location and environmental temperature, for example in southern Italy the most prevalent color in the kitchen is red and there are a lot of sauces because There is a great variety of tomatoes. The use of red every day excites and increases irritability.
Americans do not eat enough color their diet is almost totally beige (words of David Heber, director of the Los Angeles UCLA Nutrition Center), because they are too rich in carbohydrates, meat and potatoes.
For this reason, if by chance we did not find a plant of a given color, we can help with similar colors drawn from flower petals or with color touches on the tablecloth in the room hanging on pictures or canvas we like in the room.
The color it's energy vibration and even just looking at them or enjoing them is our life.
Private-chef Bice Perrini
Phone cell.+ 39-3923281905
www.coloribo.com/en